The Benefits of Using Wheat Bags for Natural Pain Relief
• Aromatherapy • Care Pack • Chemotherapy Care Pack • eye pillows • wheat bags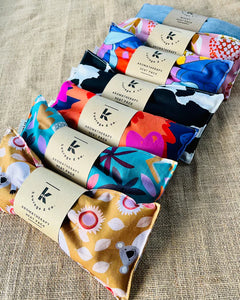 The Benefits of Using Wheat Bags for Natural Pain Relief
Looking for a natural remedy to ease your pain? Look no further than wheat bags! These versatile and practical pain relief tools have been used for centuries to provide soothing comfort and promote relaxation. Whether you're looking to ease muscle tension, alleviate menstrual cramps, or simply unwind after a long day, wheat bags offer a safe and effective solution.
Made from 100% natural materials, such as wheat grains and cotton fabric, wheat bags are heated in the microwave or chilled in the freezer before use. Once warmed, they release a gentle, moist heat that penetrates deep into the muscles, providing instant relief. The soft texture of the bag conforms to the contours of your body, delivering targeted comfort exactly where you need it.
But the benefits of using wheat bags don't stop there. They are also eco-friendly, reusable, and can be easily cleaned, making them a cost-effective and sustainable alternative to disposable heat pads or hot water bottles. Plus, they come in various shapes and sizes to suit different body parts and pain levels.
Liquid error (sections/blog-template line 100): Could not find asset snippets/spurit_dmr_collection_template_snippet.liquid